It's Kind of a Funny Story
My Rating: 5 stars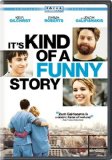 So, I went into this movie with high hopes. This book was absolutely fabulous and inspiring, could the movie ever live up to it?
Well, surprisingly, it basically did. I mean, it will never be as amazing as book, but isn't that always the case? I really liked how the movie was set up. The movie started out when Craig checks into the hospital and he has flashbacks at certain points explaining his situation with his family, school, friends, etc.
Keir Gilchrist played Craig and he did a fantastic job. I feel like he really brought Craig's personality to life. Also, Zach Galifianakis and Emma Roberts starred in this film. Zach played Bobby, Craig's used-to-be-druggie friend who helps him sort out his problems while in the hospital. And Emma played Noelle, Craig's scarred love interest that also helped him out along the way. I was also surprised to see Jeremy Davies, who played Smitty and starred in my favorite TV show, Lost. I felt this whole cast was just great all around, especially the other hospital members.
The one thing I was worried about though was the aspect of Craig drawing the brain maps. I thought that was going to be left out, to be honest. But thankfully, it was added in the movie and the idea of the healing power of art was brought to life.
Overall, this was a fantastic movie. If you love the book as much as I do, you will definitely love the movie.
Posted: March 12th, 2011 under Movies.
Tags: It's Kind of a Funny Story, It's Kind of a Funny Story movie, Ned Vizzini, review, teen