The Wizarding World of Harry Potter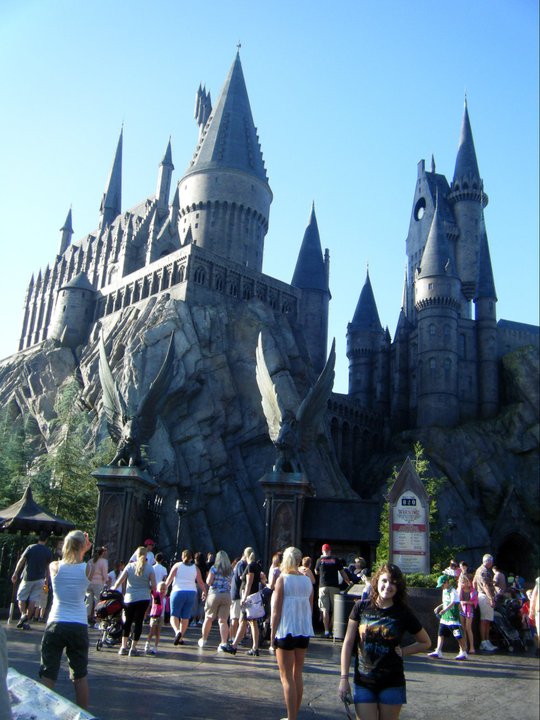 On November 3rd, 2010 I had the amazing privilege to go to the Wizarding World of Harry Potter in Orlando, Florida.
I felt like I had stepped into one of J.K. Rowling's books. With Hogwarts castle off in the distance, Hogsmeade winds its way toward the school with cobble-stoned and store-lined streets. Stores like Honeyduke's, Zonko's, Ollivander's and The Three Broomsticks. And even more. Everything is just as you would imagine it while reading the books and what was depicted in the movies.
The Hogwarts castle itself was absolutely gorgeous. It was perfect. I can't even put into words how amazing and breathtaking it was. I could probably go on for hours about it.
I didn't get the chance to go on the two roller coasters (although they did look really cool), but I did go on the ride inside the castle: Harry Potter and the Forbidden Journey. This ride made you feel like you were flying along with Ron on his broomstick, fighting the Hungarian Horntail with Harry and playing Quidditch with Malfoy. It was so intense; I loved it.
If you ever get the chance to go to the Wizarding World of Harry Potter, you MUST go on the Forbidden Journey ride!
Going to Hogwarts has been my childhood dream since I first cracked open and dove into the magical world of Harry Potter. This was definitely a dream come true.
For pictures of the Wizarding World of Harry Potter, click here.
Posted: November 10th, 2010 under Movies.
Tags: Harry Potter, Harry Potter and the Chamber of Secrets, Harry Potter and the Deathly Hallows, Harry Potter and the Goblet of Fire, Harry Potter and the Half-Blood Prince, Harry Potter and the Order of the Phoenix, Harry Potter and the Prisoner of Azkaban, Harry Potter and the Sorcerer's Stone, Harry Potter Theme Park, J.K. Rowling, The Wizarding World of Harry Potter