Masquerade by Melissa De La Cruz
My Rating: 4 stars
**If you haven't read previous book, don't read!**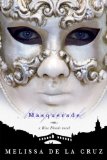 Schuyler Van Alen is back and is searching for an explanation for the mysterious deaths of the young Blue Bloods. She travels to Venice, Italy. While looking for the one person who can help –her grandfather – she relies on her human friend, Oliver, for assistance. But, back in New York, everyone is preparing for the Four Hundred Ball. The Ball is an exclusive party for the wealthy, powerful, wealthy and, most importantly, the vampires. It is a true Blue Blood affair.
But at the after-party, a masquerade held by the one and only Mimi Force, is where the real danger is. Hidden behind the masks is something that will change an adolescent vampire's future forever.
If you liked Blue Bloods, you'll like this one, because Masquerade is just as clever as the first.
Posted: February 22nd, 2010 under Melissa De La Cruz.
Tags: Blue Bloods Novel, Masquerade, Melissa De La Cruz, review, teen