Welcome to My Book Blog!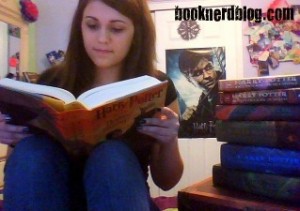 Hey there! My name is Bri. I'm seventeen and in eleventh grade. I'm an aspiring author and I love everything to do with Harry Potter.
This blog is a combination of my two favorite things: books and the Internet. In my reviews of young adult novels, you'll find my rating (five stars is the highest, one is the lowest), a summary and my opinion of the book that was read. Reviews of movies, tv shows and music can also be found here.
You can follow booknerdblog.com on Facebook and on Twitter and read my short story ebook "The Pink Sweater" on Amazon Kindle or Barnes and Noble Nook.
I hope you enjoy my website!
-Bri
Posted: October 1st, 2009 under Welcome.

Comments
Write a comment